The Little City Cooking School is a hidden gem of fun located in a 1926 home in Oakwood. We have a separate entrance, located in the back of the house, to our newly designed lower level cooking studio. All of our cooking classes are hands-on so you can fully immerse yourself in the cooking experience. We have many professionally trained as well as self-taught home-chefs on our staff who are sure to teach you through an amazing class no matter the cuisine!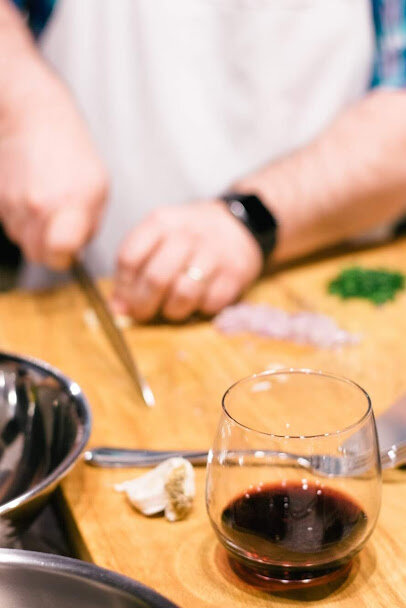 HOW LONG ARE THE CLASSES?
Usually 2 hrs of cooking/eating time but you can linger in the lounge and visit until the Prep Chef finishes. You've likely got a sitter..so enjoy your night out!
Our Adult Master classes are 2.5 hrs+. Our kids classes are 1.5 hrs. Our Jr Master Chef classes are 2 hrs. + We do our best but sometimes lots of questions are asked and class can be a bit longer.
WHAT IS DINE WITH A CHEF?
This is our newest Culinary Experience for those who don't want to cook! This class is maximum of 16 people. This experience is held at the restaurant not at the school. This is a private dinner party where the Chef sits with you and answers all your most curious culinary questions.
Our First Chef and Restaurant are: Chef Chip of Glasz Bleu Oven
Chef Chip brings his colorful stories of the history of the building and his business table-side as he dines with you. Feel free to book a seat for one or all 16 seats to make the event your private party!
You can sign up for our Dine with a Chef each month under our Classes/Events Page!
WHAT IS THE LITTLE CITY FOOD TOUR?
Join us as we embark on a culinary adventure through Downtown Dayton to celebrate and enjoy the delicious cuisine that our city has to offer. Your tour will begin at The Little City Cooking School where you will meet your tour guide and receive an orientation packet. From there, you will drive to and enjoy a total of EIGHT culinary establishments for small plates and conversation with their Chef. Your tour will end with a complimentary photo, dessert & coffee at the Carrs Photography Studio! Join us for our the first food tour in Dayton, The Little City Food Tour.
Feel free to buy one ticket or all 16 tickets to make the event your private food tour.
You can sign up for our The Little City Food Tour under our Classes/Events Page!
WHAT ARE YOUR JR CHEF SUMMER CAMPS ABOUT?
We have camps for age six up to teens. Our camps and menus follow a specific theme. You will get recipes just before each day of camp. Drop off or stay, no other walking children allowed to stay during class. We strive to keep your kids safe while giving them an interesting and fun culinary experience.
Camp Price Includes: Your own cooking station with a chopping area and cook-top, use of a chef knife if you're over 10 yrs old, all of our tools used to make your recipes, an apron, all needed ingredients, access to our Chef and Chef Assistant, and lots of culinary information and fun! Each student also gets to take home all of the food they make!
JUNIOR MASTER CHEF BOOT CAMP
Our 10yr+ Junior Master Chef Boot Camp is a more skills-oriented camp where you will learn knife skills, pan skills and many of the basic culinary lessons taught to first year culinary students!
You can sign up for just one camp of 4 lessons, or sign up for all 16 to get your certificate and white jacket.
DO YOU HAVE KIDS CLASSES
Yes, we have Junior Chef classes 2x a month for 7-11 year olds. Classes are all hands-on cooking but no knives are used. Sign up on the class page.
DO I NEED TO BRING ANYTHING TO CLASS?
You can bring your own wine, we have glasses & bottle openers. (No beer or liquor.) Wear comfortable shoes and no loose sleeves.
WHAT KIND OF FOOD DO WE COOK?
Every month we have a diverse selection of classes for you to choose from including Filet, Trout, pasta-making, Sushi, Eastern Asian, Italian Kitchen, Authentic Indian, and more!
DO YOU HAVE BAKING CLASS?
We offer the occasional baking class, but our facility and class time does not allow for many baking classes.
CAN YOU WORK AROUND ALLERGIES?
Yes, any non-life threatening allergy can be accommodated. Please give us 48 hours notice to change the menu. If you have an Epipen, the decision is yours but our kitchen is not Gluten Free or free from Peanuts or Shellfish.
HOW LARGE OF A PARTY CAN YOU HANDLE?
*We can handle up to 16 people. After 8 people, we do a share cooking evening. The price remains the same regardless of size, but there can be no less than 8 in a class.
ARE YOU HANDICAP ACCESSIBLE?
Unfortunately not. We are in a 1926 home in Oakwood with a good number of stairs leading to the studio. If you can manage the stairs, we do have high stools that you can lean on during class.
IS THERE AN AGE LIMIT ON ADULT CLASSES?
You must be at least 18 to take an adult class and have permission from a caregiver. There is alcohol consumed in class by other adults. You can create a Private Event for your age group, or you can mix adults and kids together in a Private Event
CAN I GET A CULINARY DEGREE ATTENDING CLASSES AT TLCCS?
No, we are not a certified school. Our classes are designed for the home cook. We do have Master Chef Programs that go into more detail than our regular classes. You would receive a completion certificate from our school, not a culinary degree.
DO MASTER CHEF COURSES HAVE TO BE COMPLETED IN A CERTAIN TIME FRAME?
For instance, could I put my son in the Jan/Feb classes and then finish the others the next time they are offered? You can now register for any class in any order to accommodate schedules. When you eventually cover all 16 offered, you can graduate with your certificate and white jacket.